As our Uncle advised, we want to first get a water source before proceeding any further.
My father-in-law helped us with this task. He arranged for a water diviner that he trusts to locate a place for us to dig. The diviner, a pleasant lady that carried a bible in her hand, spent only few minutes before marking a place for the borewell. She suggested we dig 400 ft below the ground and arranged for a rig as well. FIL suggested an auspicious day and he came down with pooja materials to start the digging.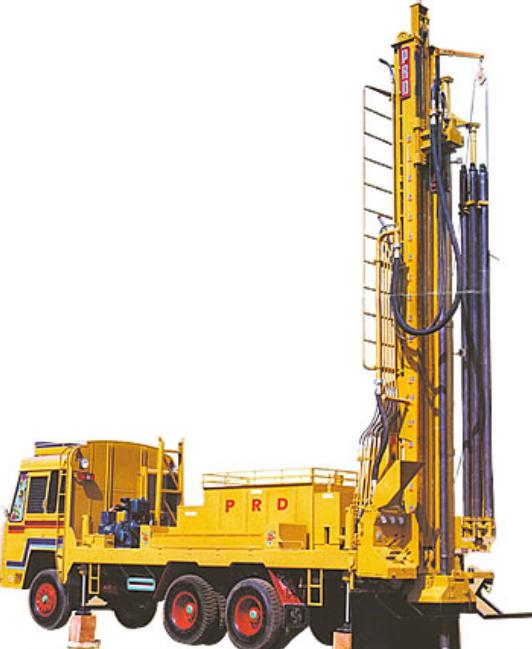 Since its an urban area and we didn't want to keep the neighborhood up at night with the rig noise, we planned the dig during the day time. The rig that was supposed to come in the morning only came late in the evening.. around 10 pm. They took two hours to setup and started around midnight. We wanted to stay during the initial few minutes, then go home and come back in the morning to see the progress. As we were about to leave FIL mentioned that we should stay for few more minutes as he feels we are going to hit water soon. I was surprised to hear that ...but ...we did hit water in few minutes..at mere 40 ft. We were all so happy...but not the rig guys...more depth more money for them. We can see the terrible disappointment that they were trying to hide.
Rig guys couldn't go any further than 80 ft as water gushed out with boulders as well. So we stopped at 80 ft. We asked the guys to secure the borewell with at most care to prevent any mishaps. FIL and I went home that night with big smile on our faces. நீரின்றி அமையாது உலகு - what happiness it brings to people!
May 2015: Borewell on the left side of the pic. Weeds and thorny bushes are flourishing in the field again since the clean up
Electricity
சீ சீ இந்த பழம் புளிக்கும்!
As Uncle suggested, I started looking at solar option. Having installed solar panels for our software business I was comfortable with this option. There is bit of upfront investment involved but the feeling of clean renewable energy is a great attraction. I convinced my dad on this and started evaluating vendors. There were couple of subsidy schemes provided by both state and central government. The norms for the subsidy are little harsh for NABARD, the central government agency. The panels have to be laid in a single line - its ok for a 3kw but for a 5kw, the plant would look too long.
Uncle suggested Sun Edition, a US based company, as he was one of their early customers and has been happy with their work. When we met with them, they looked competent and also eager to establish themselves in the south Indian agri market. Though its a bit more expensive option, we liked the technology and the people. They took care of all steps in the installation process.
Now, June 2015, we have water source and we can pump water out of the ground. As an organic farm, going completely green should bode well in the long run.